Hi,
I am testing creating a stacked MultiBar Chart, but not succeeding in getting the chart to stack.
it just stays as a normal multiBar.
I suspect I am either usinig the 'tm1-ui-chart-value' directive incorrectly, or maybe there is a problem in the way the tm1-value object variable, CeFlashN1TotalPe, is declared.
Current Code:
Html:


Js: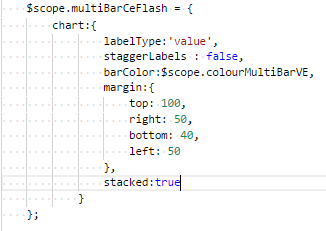 Any help/guidance would be appreciated!
Thanks in advance.
Regards,
Gerhard