Hi Guys,
If one is considering multiple canvas instances - what would be the best way to structure your project folders, to simplify future upgrades/adjustments to canvas?
For example:
In webapps, if one starts your new project by cloning the entire ROOT, one also copies over the admin and assets folders.
Lets say you have multiple projects: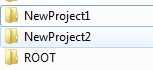 When a new version of canvas is released does one need to upgrade each project instance individually?
Or would the install executable take care of this in some way?
Thanks!
Regards,
Gerhard