Hi Expert,
I have a chart where the Account dimension linked to global filter as below:
[Account].[Account].[$<<tm1.Account.Account].Children
Here's the Hierarchy: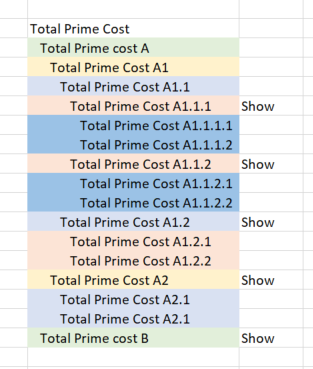 How would I make changes in the above MDX to achieve the below:
1, When I choose "Total Prime Cost" - it will display whatever marked as "Show"
2, When I choose the other accounts - it will show its children.
I found an MDX reference guy in tm1forum where it might be possible to use Case, When, Else, End but not too sure how it works in Apliqo
https://www.tm1forum.com/viewtopic.php?t=16217

Thank you very much!