Hi all,
I noticed a seemingly incomplete synchronization between interactive charts (e.g., map) and other objects on a dashboard. Not sure if there's something I'm not doing properly (or by design) but I've tried with a few different models and also noticed this behavior on the latest v2.1.1 demo.
Let's use the v2.1.1 demo as an example. In the interactive map widget, a user can click on a country which refreshes the global filters. The table widget updates with details filtered by the country selected on the map. However, the global filters on the toolbar still shows the default selection (rather than the country selected). Furthermore, any widget titles using $<> does not refresh either.
I've tried enabling/disabling "Hyperlink to change Filters" which doesn't seem to make a difference for the chart. Clicking on links for a grid table seems to have similar behavior (i.e., global filters not updating but fixed global values do update if they are not hidden). Not sure if the global filters are meant to stay fixed regardless of any filter changes triggered through the graphs/tables?
Default on initial load: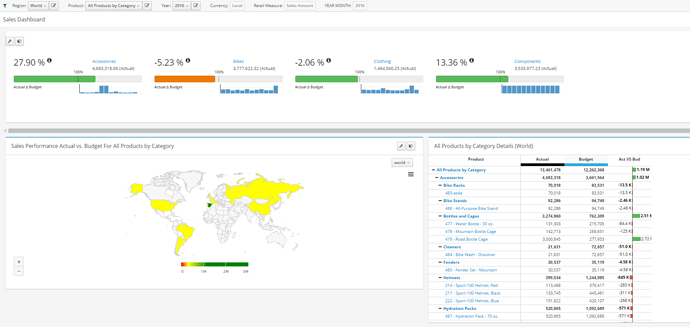 Upon clicking Brazil on the map (note that "Region" filter stays on World):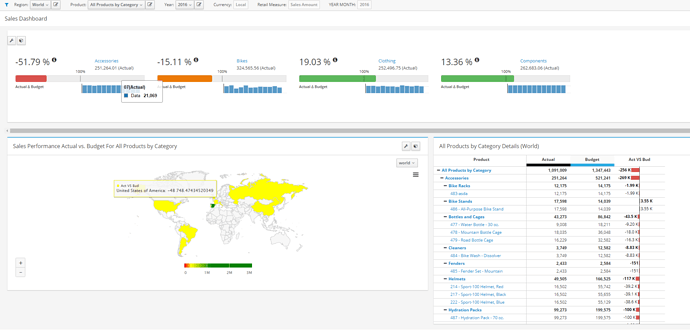 $<> variable in widget title (title on table still refers to "World" instead of "Brazil")


Thanks in advance for your help!
Wei