Hello Experts,
We've just noticed that subsets we are using in views or grid widgets are no longer showing correctly if they're set to "Expand Above". Specifically, the +/- button is always showing + even if the consol is expanded. Both the Perspectives and Arc subset editors are showing correctly with the - icon, however.
The screenshots below are from the same subset, the first one is how it is displayed in UX and the second in Arc: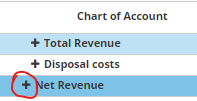 We're sure UX used to display correctly but have only just noticed this change. Any suggestions?
Thanks,
David